Forciot Oy Receives ISO 9001:2015 Certification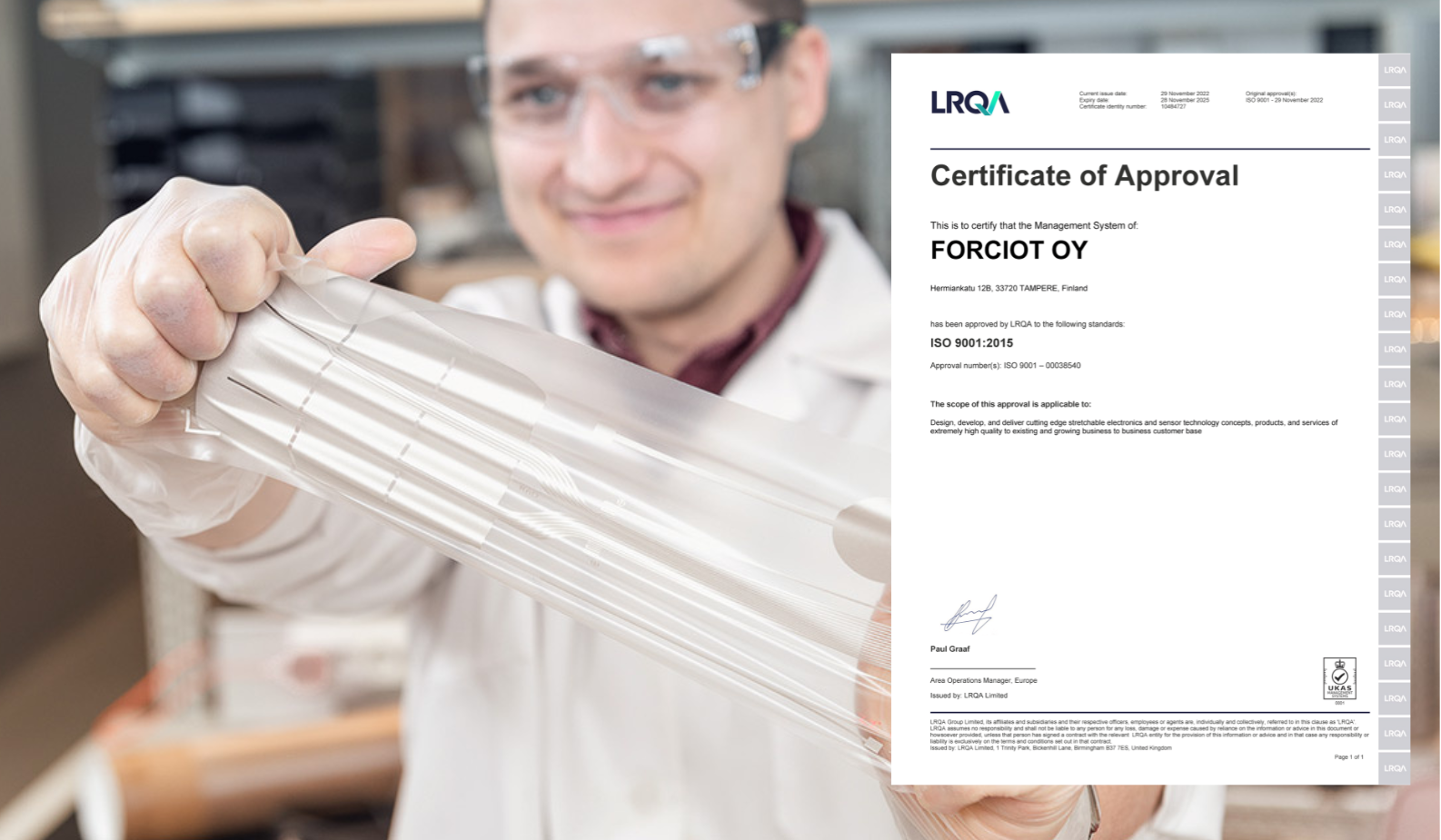 Tampere, Finland – 14th December, 2022 – Forciot, the leading solution provider of stretchable electronics and sensor technology has been awarded the ISO 9001:2015 certification, an internationally recognized standard for quality management systems. Forciot was audited by LRQA and was presented later with the certification.
Obtained through thorough and extensive external audits performed by LRQA, a world-class ISO certification organization and independent accredited registrar company, ISO 9001:2015 certification shows Forciot has demonstrated the ability to systematically and consistently provide stretchable electronics and sensor technology solutions that meet applicable quality and regulatory requirements.
"The certification shows Forciot's dedication to continuous improvement and ensuring competitiveness in the market. We also test systematically our solutions to ensure only high-quality, suitable solutions are offered to customers and business partners. Forciot is passionate about delivering outstanding solutions for customers.", states Maria Alm, Forciot's Co-Founder and CEO.
The accreditation of Forciot's quality management system ensures that the company's cutting-edge stretchable electronics solutions are of high quality.
Besides the ISO 9001 certification, Forciot team is also building capabilities for automotive industry standards, such as ISO 26262, a global standard for automotive functional safety.

For further inquiries please contact: 
Tytti Julkunen, Forciot CBO
+ 358 504 877 357
tytti.julkunen@forciot.com 

About FORCIOT:
Forciot is a fast-paced, award-winning scaleup company. The company offers cutting-edge stretchable electronics solution that enable customers to transform their products, to sense and interact with the changing world, in extraordinary new and sustainable ways to conquer growing markets. The Forciot technology works on and with several surface materials, which means it can be integrated into various products and equipment of different sizes and shapes. In addition, it can be used on both rigid and soft surfaces. Forciot's stretchable electronics solution accurately measures a broad variety of parameters such as force, weight, load, balance, pressure, and touch in real time.  
Forciot's key market focus areas are the automotive and logistics sectors.