Minimalistic and seamless smart surfaces make the car interiors safe and intuitive for the driver enhancing the in-vehicle experience. Seats are designed to keep the driver and passengers comfortable and safe, but as autonomous driving increases and less intervention is needed from the driver, the expectations for the in–cabin experience increase.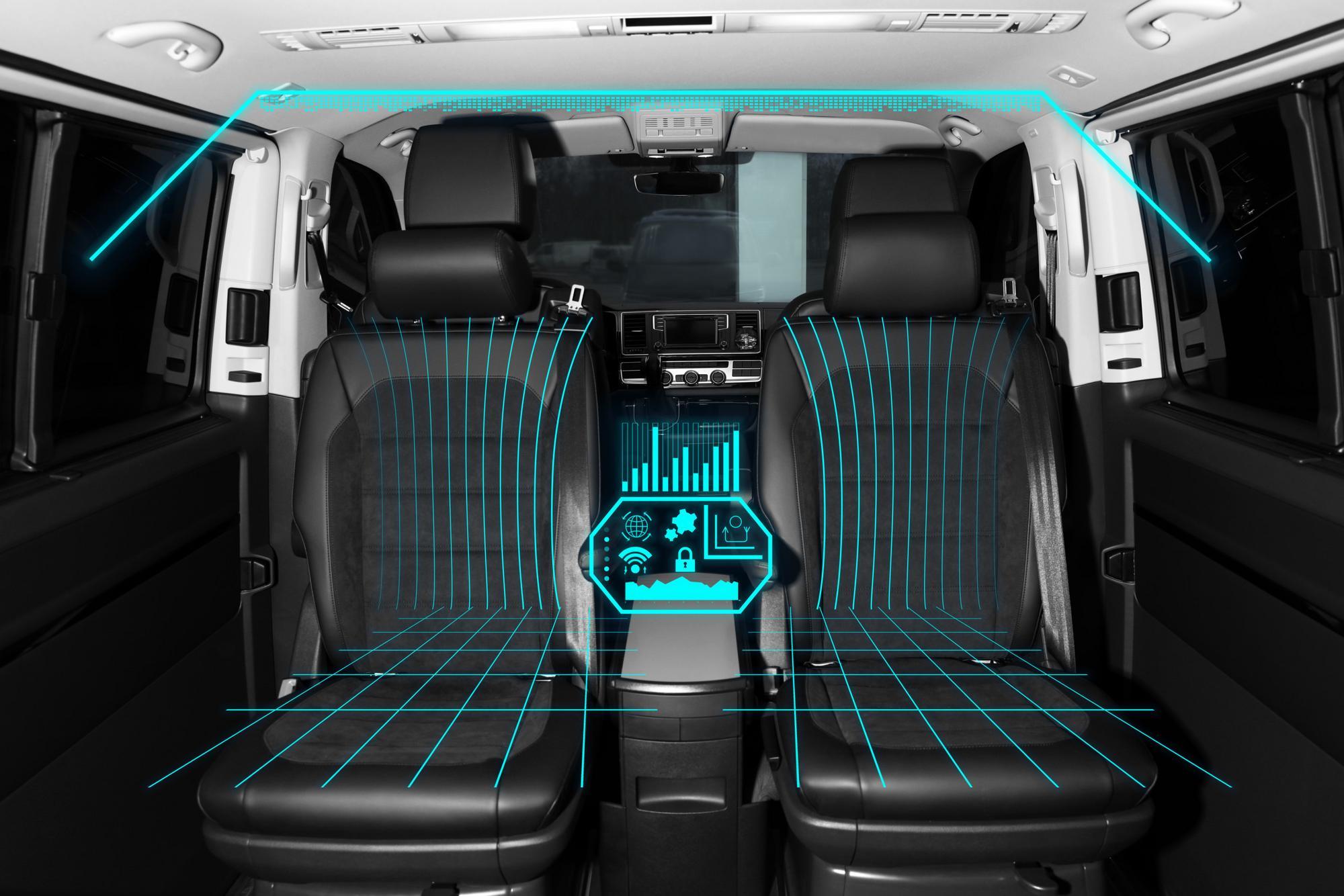 Increasing functionality without added complexity 
FORCIOT® sensor technology enables designing intelligent seating solutions with force, touch, pressure, and gesture sensors for personalization, comfort, and ergonomics for EVs, self-driving cars, and shared and connected cars. Touch and gesture sensing on seat surfaces enable new ways of interaction to control seat adjustments, heating, massage, and ventilation functionalities. In the headrest, each passenger can have for example personal volume control or other controls. 
Automatic adjustments of seats on personal preferences of the driver and passengers based on their pose and position for comfort and ergonomics

 


 

Detecting the

condition of the driver and even passengers to alert in case of distraction, drowsiness, or medical emergency

 
One printed stretchable sensor sheet can have multiple sensing areas and reprogrammable functionalities which makes the solution very cost effective from manufacturing, assembly, interface, and electronics perspective.  
Next-generation seating experience 
Car manufacturers can create a premium driving experience with intelligent seating solutions. Thin and stretchable sensors enable aesthetic and intuitive design. Outstanding seating experience for demanding consumers requires interoperability with seat heating, massage, and ventilation functionalities. HMI controls and panels enable interaction in an intuitive way.  Multiple sensing areas enable personalized automatic adjustments such as lumbar support based on the pressure sensing or seat bladders can be adjusted seamlessly based on changes in real force, based on selected driving mode automatically in acceleration. 
Electric Cars (EVs) require lighter and sustainable materials for slim and slick designs. Lightweight thin seats set limitations on the space that is required by mechanical buttons and sensors. Thin stretchable electronics meet the requirements of aesthetic trends. And as automated driving technology advances, it creates more complexity into the car seating such as the need for rotating seats as there is more options for driver and passenger positions.  There will be also new requirements for the in-cabin space and for example safety features can be integrated directly into seats.   
Seat sensors generate data to track driver behavior 
Sensors are seamlessly integrated into car interiors being part of the driving experience enabling advanced functionality and extreme safety. Seats are a source of data to detect driver behavior and movement.  
FORCIOT® printed stretchable electronics deliver data and safety based on capacitive force measurement:   
Occupant Classification System (OCS)

 

Seat Belt Reminders (SBR)

 

Driver Monitoring System (DMS) 

 

Diver Presence Monitoring (DPM)

 

Child Presence Detection (CPD)