The FORCIOT® sensor solutions as part of the Volvo Cars Concept recharge – showcased this week in CES, Las Vegas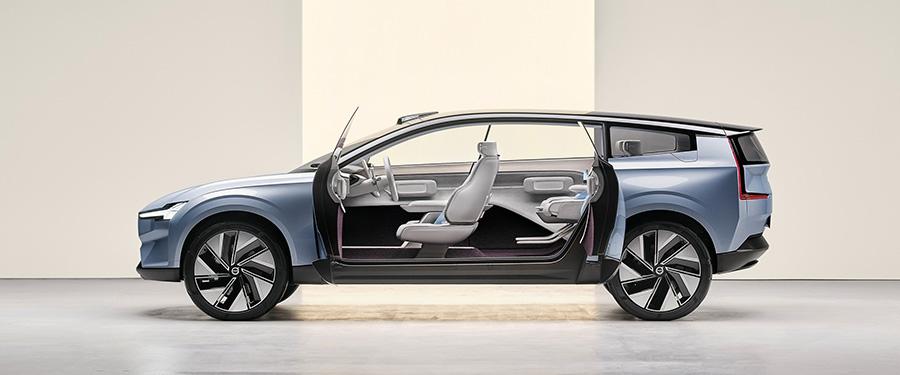 LAS VEGAS, TAMPERE; JANUARY 4TH, 2022.
Forciot is excited to announce its partnership with Volvo cars in the development of its Concept Recharge – a Concept Car development cooperation with Volvo Cars. The company has been working closely with the Volvo Cars teams to design and develop various sensor solutions for the Volvo Concept Recharge. Forciot® Touch and Force sensor technology solutions are integrated for example as part of the Concept Car exteriors in door elements with illumination functionality and as part of the interiors to headrests and seats with haptics feedback.
"We are very excited to collaborate with Volvo Cars and support the development of Concept Recharge – a manifesto for the next generation of all-electric Volvos. We see Volvo Cars as a forerunner in innovation, safety and sustainability in automotive. This is a big and important milestone for us in Forciot and we are extremely proud of the great cooperation that we have with Volvo Cars development teams and with the Volvo Cars Technology fund, one of the Forciot investors." says Tytti Julkunen, Chairman of the Board & CBO at Forciot."
The new Volvo Concept Car will make its North America debut  at CES Las Vegas on 5th-7th of January 2022 hosted on the booth of Luminar Technologies.
"It has been great to work with the talented Forciot team. Both companies share the passion to develop advanced yet sustainable solutions and experiences for the end users." says Rickard Franklin, Project Design Leader – Volvo Concept Recharge, Volvo Cars.
For press inquiries, please contact:
Tytti Julkunen, Forciot CBO
+ 358 504 877 357
tytti.julkunen@forciot.com
Images for press use (source):

About FORCIOT:
Forciot is a fast-paced, award-winning scaleup company established in 2015. The company drives cutting-edge IoT-sensor solutions that enable customers to transform their products, to sense and interact with the changing world, in extraordinary new and sustainable ways to conquer growing markets. Forciot is leading the new era of electronics with its stretchable force sensor technology. The Forciot technology works on and with several surface materials, which means it can be integrated into various products and equipment of different size and shape. In addition, it can be used on both rigid and soft surfaces and unlike many competing solutions, it accurately reacts to and measures a broad variety of parameters such as force, weight, load, balance, pressure, and touch in real time.
Forciot's key market focus areas are the automotive and logistics sectors.

About Volvo Car Group:
Volvo Cars was founded in 1927. Today, it is one of the most well-known and respected car brands in the world with sales to customers in more than 100 countries. Volvo Cars is listed on the Nasdaq Stockholm exchange, where it is traded under the ticker "VOLCAR B".
Volvo Cars aims to provide customers with the Freedom to Move in a personal, sustainable and safe way. This is reflected in its ambition to become a fully electric car maker by 2030 and in its commitment to an ongoing reduction of its carbon footprint, with the ambition to be a climate-neutral company by 2040.
As of December 2020, Volvo Cars employed approximately 40,000 full-time employees. Volvo Cars' head office, product development, marketing and administration functions are mainly located in Gothenburg, Sweden. Volvo Cars' production plants are located in Gothenburg (Sweden), Ghent (Belgium), South Carolina (US), Chengdu, Daqing and Taizhou (China). The company also has R&D and design centres in Gothenburg, Camarillo (US), Sunnyvale (US) and Shanghai (China).