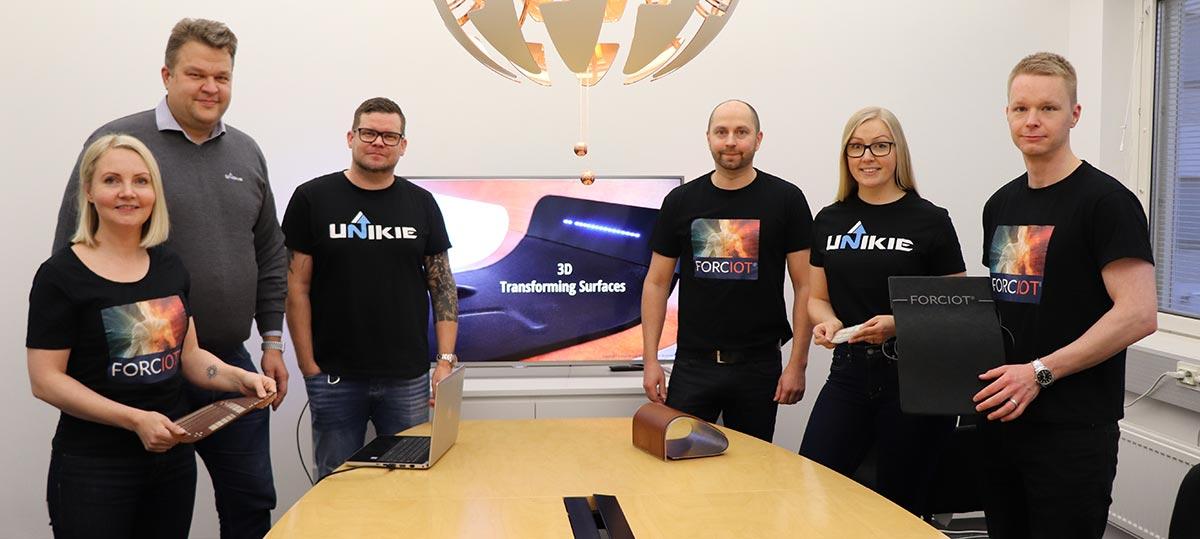 Synergy drives collaboration
In a quest to improve and push limits in the automotive industry and driving safety, two tech companies from Tampere are working together and amplifying each other's competence in the process.
Visitors to the next Consumer Electronics Show (CES) to be held in Las Vegas in January will be first in line to experience the fruit of a collaboration between two companies from Tampere's tech centre of Hervanta. At CES, FORCIOT and Unikie will be launching joint demonstrator that will showcase the state of art technology developed by both companies.
The joint demonstrator combines FORCIOT's patented 3D multitouch solution for stretchable electronics that gives drivers a safer yet intuitive driving experience and Unikie's software that can track eye movement to monitor if the driver keeps their eyes on the road or even if they're starting to feel sleepy.
Opening a world of possibilities
Based on the company's patented sensor technology, the FORCIOT® Stretch-pad module can turn an entire car's interior surface into a control pad. The stretchable FORCIOT® Stretch-pad module can be easily integrated under leather, fabric and other materials, it can transform any surface in a car's interior into 3D multitouch-pads, sliders or stretchable force buttons.
Using the FORCIOT® Stretch-pad module means that data can be collected from practically every inch of a car's interior. Add to that the data collected by Unikie's sensors and you have the perfect demo for car manufacturers. Such integration could even bring us one step closer to the Holy Grail of car making – the self-driving vehicle – which requires large amounts of data from sensors.
Before working on this demo, Unikie's focus has been on the exterior of the vehicle, using cameras and radars. Unikie Drive and AI Vision work in tandem to collect data and to give drivers a sense of the environment around them. Bringing their technology inside the vehicle, to monitor the driver's state of alertness, is a new area for the company.
Both companies work with automotive manufacturers and with Tier 1 car parts manufacturers. This could be a problem among competitors, preventing them from working together. Instead, it creates synergy between FORCIOT and Unikie. While some of the customer bases overlap, we see our cooperation as an advantage for both brands and the products we are offering to our customers. Both companies set their sights on the US market, while pursuing growth in Europe.
In union, there is strength
With the demonstrator, FORCIOT and Unikie solve a headache that manufacturers face because of the different systems that go inside a car. Both companies' products can be very easily integrated into the bigger whole.
More importantly, integrating the FORCIOT® stretch-pad Module's control surfaces into a car makes for a safer and more intuitive dashboard experience. Sensors can be connected to the car's safety systems and can be used to adjust car seats and other settings without distraction. Drivers can finally just focus on driving.
The next decade will bring tremendous changes to transport and logistics. FORCIOT and Unikie have taken a significant step towards the future, through new technologies and functionalities in the products. We have also taken the bigger step of realizing that working together could help to improve in every way. It will be interesting to see how these two companies from Tampere's tech hub of Hervanta are changing the way the world drives.
FORCIOT and Unikie will launch their joint demonstrator at the Consumer Electronics Show to be held from 7.-10. January 2020 in Las Vegas, Nevada. Check it out at Stand #323 Westgate, Smart Cities.