Forciot's revolutionary IoT weight-based system, FORCIOT® SKID, is coming to market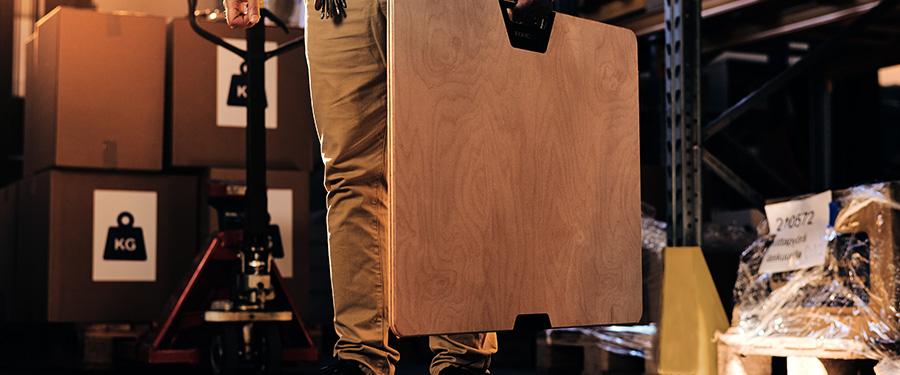 TAMPERE, 17 June 2021 – Forciot, a Finnish technology company that develops advanced IoT sensor solutions, today announces the launch of FORCIOT® SKID.

FORCIOT® SKID is a fully automated IoT system that combines sustainability, sleek Scandinavian design, and FORCIOT® intelligent sensor technology to enable weight-based and real-time inventory monitoring and management like never before. The same technology has previously been available for integration in different products and equipment, but this is the first time Forciot has made the technology accessible as a ready-to-use end product.
The FORCIOT® SKID system manages inventories of materials that are not possible to identify as single objects in an intelligent way – based on weight. The system can be used to alert the user if an object is no longer present or to ensure that everything is still in place. It is also possible to set a threshold value for the load, in which case the SKID will help the user to make sure new products are ordered before the stock is too low.
The SKID system is mobile and cost-effective to both set up and use. The system consists of FORCIOT® SKID sensor plate(s) with integrated handle and locking system for connecting several SKIDS to each other, a gateway to transmit data, Microsoft Azure IoT hub cloud for storing data, and a web application for viewing and analyzing data. "FORCIOT® SKID is a fully automated weight-based monitoring system for supply chains with advanced IoT sensors, " highlights Tytti Julkunen, Chief Business Officer at Forciot.
The system consists of intelligent plywood covered sensor plates known as skids. One skid measures 600 x 800 mm, equivalent to a half-Euro pallet. Several skids can be attached together to cover larger areas and integrated into the application for monitoring warehouse fill rate and to optimize order processes.
"FORCIOT® SKID is equipped with intelligent sensor technology that will transform the way weight-based inventories are monitored and managed," says Maria Alm, Chief Executive Officer at Forciot.
FORCIOT® SKID is ready for preorder at webstore.forciot.com
For press inquiries, please contact:
Tytti Julkunen, Forciot CBO
+ 358 504 877 357
tytti.julkunen@forciot.com
Images for press use (note: images are if high-quality and approx. 10-20 megabytes each):

About FORCIOT:
Forciot is a fast-paced, award-winning scaleup company. The company offers cutting-edge stretchable electronics solution that enable customers to transform their products, to sense and interact with the changing world, in extraordinary new and sustainable ways to conquer growing markets. The Forciot technology works on and with several surface materials, which means it can be integrated into various products and equipment of different sizes and shapes. In addition, it can be used on both rigid and soft surfaces. Forciot's stretchable electronics solution accurately measures a broad variety of parameters such as force, weight, load, balance, pressure, and touch in real time.  
Forciot's key market focus areas are the automotive and logistics sectors.