Forciot launches next generation stretchable multisolution – FORCIOT® GRIP – for steering wheels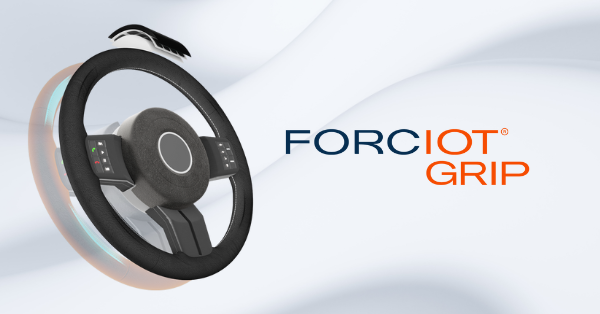 TAMPERE, 20 June, 2022 – Forciot– the industry pioneer in stretchable electronics solutions for automotive industry, has launched a new product solution FORCIOT® GRIP for steering wheels in Car HMI Europe event in Berlin.  
 
Bringing additional functionality into products does not have to mean complexity – just the opposite. FORCIOT®GRIP delivers more functionality with less layers, less electronics, and less costs. 
 
FORCIOT® GRIP is a game-changing HMI solution, for additional safety and functionality. GRIP combines several functionalities to bring advanced grip pressure detection, levels of force, and now also a printed stretchable heating element, into all-in-one multisolution, for enhanced safety and user experience.  
 
Printed stretchable electronics combined with advanced algorithms, FORCIOT®GRIP revolutionizes steering wheel solutions by providing accurate force data in all conditions with multiple sensing zones, allowing design freedom to easily integrate into any surface, size, and shape, regardless of the surface material. Besides detecting grip forces accurately, the solution also detects gentle wheel contact reliably even with gloves on. It also reduces costs by combining the printed stretchable heater element and pressure sensing for grip detection into one multisolution.  
 
"The GRIP is the next generation product solution for Tier 1 Steering Wheel manufacturers that enables additional functionality and safety in their products. FORCIOT® GRIP solution ensures that car manufacturers meet the highest standards of safety for Advanced Driver Assistance Systems (ADAS) and future needs of autonomous driving."  
– highlights Tytti Julkunen, CBO & Forciot Chairman of the Board.  
 
Forciot's highly skilled R&D team has worked for several years on developing printed stretchable electronics for measurements on 3D surfaces. Now an integrated technology multisolution has been developed with force sensing and with the stretchable heating element into a product solution that combines mechanical and electronical functions.  
 
EU General Safety Regulation (GSR) has several requirements for Driver Monitoring Systems (DMS). GRIP supplements for example Distraction and Drowsiness Recognition data by measuring drivers grip and movement, Recognizing Driver Availability, Detecting Dangerous Behavior from sudden or illogical movements, warning the driver when distracted and not having a firm grip, and identifying static poses and dynamic poses. Contact Forciot today to learn more about FORCIOT® GRIP solution – info@forciot.com.
For further inquiries please contact: 
Tytti Julkunen, Forciot CBO
+ 358 504 877 357
tytti.julkunen@forciot.com 

About FORCIOT:
Forciot is a fast-paced, award-winning scaleup company. The company offers cutting-edge stretchable electronics solution that enable customers to transform their products, to sense and interact with the changing world, in extraordinary new and sustainable ways to conquer growing markets. The Forciot technology works on and with several surface materials, which means it can be integrated into various products and equipment of different sizes and shapes. In addition, it can be used on both rigid and soft surfaces. Forciot's stretchable electronics solution accurately measures a broad variety of parameters such as force, weight, load, balance, pressure, and touch in real time.  
Forciot's key market focus areas are the automotive and logistics sectors.