FORCIOT, together with WEBASTO, have teamed up to manufacture high-tech sensor solution for measuring dynamic forces in WEBASTO Convertible Roof Systems in real-time, in a fast and cost-effective way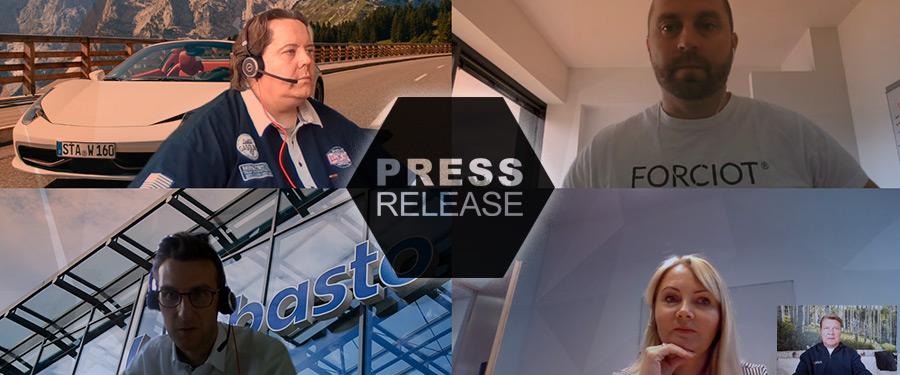 Tampere
September 23rd, 2020

While opening and closing a convertible roof, the entire roof system is in constant motion. During this process different forces act on the roof and many variables such as temperature, dimensions, inner tensions and stretches make the evaluation or simulation of the real-time forces difficult. To build state-of-the-art convertible roof systems faster and more efficiently, it is important to measure forces in real-time. This is why Webasto, together with Forciot, have teamed up to manufacture high-tech sensor solution for measuring of dynamic forces in real-time, in a fast and cost-effective way.
Forciot sensor solution can easily be integrated in between the canopy – the flexible textile part of the convertible roof system. Forciot is using it's patented stretchable electronics technology in the Webasto convertible roof force measurement solution.
"For Forciot this is exactly what we want to do, to develop and manufacture spearhead sensor solutions together with our fantastic global customers. We highly value this opportunity to cooperate with such a great company as Webasto Group that goes far with innovation.", Says Tytti Julkunen, Forciot CMO & Chairman of the Board.
Webasto-Forciot sensor solution will be presented and demonstrated for the first time by both companies together at the Start-up Autobahn EXPO DAY at 24th of September in 2020 at 2PM UTC. The event will be organised online so all interested parties are welcome to join to hear and see the solution presentation. More information about the event can be found from the following web pages:
https://expo8.pnptc.events/welcome/
https://startup-autobahn.com/our-program/#events
For press inquiries, please contact:
Tytti Julkunen, Forciot CMO
+ 358 504 877 357
tytti.julkunen@forciot.com

About FORCIOT:
Forciot is a fast-paced, award-winning scaleup company. The company offers cutting-edge stretchable electronics solution that enable customers to transform their products, to sense and interact with the changing world, in extraordinary new and sustainable ways to conquer growing markets. The Forciot technology works on and with several surface materials, which means it can be integrated into various products and equipment of different sizes and shapes. In addition, it can be used on both rigid and soft surfaces. Forciot's stretchable electronics solution accurately measures a broad variety of parameters such as force, weight, load, balance, pressure, and touch in real time.  
Forciot's key market focus areas are the automotive and logistics sectors.